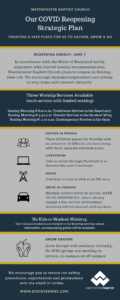 1. We are Reopening June 7th
2. Three Services, each service with limited seating
a.
Sunday Morning @ 8:00 a.m. in the Sanctuary
b. Sunday Morning @ 9:30 a.m. in the Student Wing
c. Sunday Morning @ 11:00 a.m. in the Gym (MP Room)
3. See Safety Considerations below in alignment with Carroll County recommendations and State Recommendations.
4. Radio and Livestream will continue. The Contemporary Service will be available on Facebook at 11am and livestreamed online. The Traditional Service will be available on FM 102.3 at 11am.
5. Grow Groups will continue virtually; no WBC groups are meeting in person on campus or off campus.
6. We encourage immunocompromised and elderly to stay home and connect virtually, via livestream or radio.
7. We intend to have a monthly outdoor/drive-in service (date to be announced).
Our State and Local Governments Expectations:
1. No more than 250 people.
2. Masks on Campus, provisions for those who don't have masks.
3. Temperature Checking (at home is fine, all leaders will be checked at the church).
5. Cleaning Supplies/Sanitizing Supplies on Campus.
6. No Congregational Singing (except outdoor services).
7. Seven feet of social distancing.
Extra Precautions we are taking:
1. Door Greeters to open doors so that we reduce the amount of contact on high volume areas.
2. Continued Tithing through Online and Mailing (giving box located on campus).
3. Lord's Supper through Groups or at Home.
4 .No Coffee and Donuts on campus.
5. Three different spaces for Worship with no crossover of different services.
6. Three different bathroom areas, one for each different worship services.
8. Weekly Sanitizing Crew.
9. Bathrooms cleaned after use.
In order to adequately prepare:
We are reopening June 7th. This
is subject to change based on recommendations by health officials and our government. Our hope is to be in Phase II of the Government's reopening at that point, so we can begin singing on campus. Also, our local government requested that we wait until Phase II to reopen. If we are not in Phase II of the Government's Reopening, expect further communication on how and if we will begin reopening on June 7th.
We will have three spaces for worship, which will reduce the amount of people in each space.
1. 8am: Sanctuary, traditional style (limited capacity)
2. 9:30am: Student Wing, blended style (limited capacity)
3. 11am: Gym, contemporary style (limited capacity)
We are adding a Drive-in/Outdoor Service once a month
We want to create a space for people to come and worship outside or in their cars who are not yet comfortable coming inside. This environment will include seating on a hill (for individuals or families) and parking spots on the parking lot where all can engage live services. Please look for more information coming as we map out a schedule and plans!
No kids or student ministry. Our kids and students are invited to the worship services and will have accompanying guides for the services that are interactive.
We will continue to offer livestreaming through social media of the 11am Contemporary Service on Facebook and online streaming through our website.
We will continue to offer radio services of the Traditional Service at 11am on FM 102.3.
Let me just speak from my heart:
1. I have people I respect who have died because of the virus.
2. I have great friends who have lost close family members because of this virus.
3. We have people in our church who have the virus.
4. It's personal. It's not policies and procedures. It's not numbers and statistics. It's people I love and care about. It's people in our church, that God has entrusted me to shepherd and lead.
The Local Government asked me to wait and reopen when I felt like I could do what they asked and prepare our building and processes to align to their expectations. I believe we can achieve this by June 7th. We need to do what is best for our Church. For us, we need time to create a space for you that most effectively eliminates high risk situations. This is our plan; I hope to see many of you then.