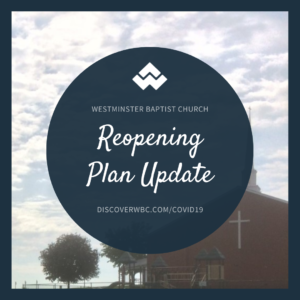 Dear Church,
We consider your health and safety important to us. Please help us to maintain a safe and
healthy place to gather as God's people.
On Sunday November 15
th we had two positive Covid-19 cases on our campus. We have been
working closely with the Health Department and Healthcare workers to identify and contact
individuals who might have been considered "close contacts." The Healthcare Department will
contact you if you were in close contact or need to quarantine. The positive individuals were
not present in the Kids Wing, 8:00am Service, or Adult Wing. They were present in the Student
Wing, 9:30am Service, 11:00am Service, and Annual Business Meeting. After consulting with the
Health Department, staff, and leaders from the Church, we will be doing the following:
– We are going virtual for services, ministries, and groups for the next two weeks. Our first
Sunday back will tentatively be December 6th
, 2020.
– All groups and Sunday Schools will be virtual until further notice.
– Harvest Dinner will be canceled and potentially rescheduled.
– Christmas Shoeboxes can be dropped off under the pull through at the church from 9-
11am on Thursday and 9-11 am on Saturday.
– Please understand, we have worked hard to identify anyone who might have been
exposed, and we have already contacted those who were potentially exposed.
Remember, we maintain 6ft of social distancing between families and all individuals are
required to wear a mask even while in their seats. We fog, sanitize, clean and direct traffic
throughout the Church as preventative measures each week.
Here are a few extra steps we are taking before potentially reopening December 6th, 2020.
– The Church will complete a deep clean and sanitization twice by a professional fogger
and our staff.
– The staff who were most near the individuals will be tested and receive a negative
before returning the 6
th
.
– All volunteers and staff will now fill out a questionnaire before they can serve on
Sundays which will indicate if they have symptoms or if they have a fever.
In accordance with the Centers for Disease Control and Prevention, individuals with COVID-19
have had a wide range of symptoms. For now, to err on the side of caution, observe your
symptoms over the next few days for any of the following symptoms of COVID-19:
Fever or chills
Cough
Shortness of breath or difficulty breathing
Fatigue
Muscle or body aches
Headache
New loss of taste or smell
Sore throat
Congestion or runny nose
Nausea or vomiting
Diarrhea
This list does not include all possible symptoms.
If you have any questions or concerns, please contact your health care provider for additional
information. Please email me for any further questions, matt@discoverwbc.com.
A personal word from Pastor Matt:
Every decision we make must be saturated in prayer as we seek the Lord's guidance. We
consult those around us who are wise and not influenced by the world, including it's politics,
media, or theories. We simply make the right decision, not worrying about how people will
view that decision. I want you to hear my heart for a moment. This virus has forever changed
the lives of people I love. And, I love all of you. When I think about the more than 400 people
who identify WBC as their church, I see the faces of young and old, sick and healthy, and I am
constantly aware that I have been entrusted with the responsibility of shepherding a wide
range of people at WBC. Please consider one another. We can live without fear while also not
driving 200mph down a wet road. We can work in a community devastated by Ebola without
fear, while wisely wearing protective gear. Faith does not compel reckless abandonment of
wisdom. Instead, faith compels us to live a life of wisdom and love towards one another.
We will keep you updated on any changes. Please continue to be diligent in following all our
safe practices implemented at WBC. Our offices will be closed for a minimum of 14 days from
the 15th of November. Please email or call the church if you need anything. We do have access
to the phones and email.
Ephesians 4:1–6 (CSB)
(1)Therefore I, the prisoner in the Lord, urge you to walk worthy of the calling
you have received, (
2) with all humility and gentleness, with patience, bearing with one another in
love, (3)
making every effort to keep the unity of the Spirit through the bond of peace. (
4) There is one body and one Spirit—just as you were called to one hope at your
calling— (
5) one Lord, one faith, one baptism, (
6) one God and Father of all, who is above all and through all and in all.
Grace and peace,
Matt McMillan
Lead Pastor
WBC Reopening Plan Update 11.13.20
Dear Church,
Our Governor, Larry Hogan, announced new advice for businesses and people in Maryland. The new
recommendations do not pertain to the Church (Page 4, Section III, Letter a. of Order Number 20-11-10-01 from Governor Larry Hogan). Please understand, State and Local policies are constantly changing, but to get in front of questions, we want to clearly communicate that our policies and procedures are unaffected by the new order. Our worship services, weekly activities, and office are unaffected by this order. If Carroll County, Maryland, or the United States of America send down more requirements or advisories, we will do our best to submit and bring about peace in our city by the way we help its prosperity. As we learn more, we will continue to give updates on how we are responding and ensuring your safety as you worship King Jesus.
May we do everything we can to bring glory to God by the way that we live our lives. If the
government's rules are not contrary to Scripture or compromising morals, then we should do what we
can to adhere.
Therefore, our policies for reopening are still in effect. We still offer the following:
– Three services at 8:00am, 9:30am, and 11:00am
– Radio services at 11am
– Livestreamed Services at 11am on Facebook and YouTube
– Kids Ministry on Sundays at 9:30am and 11:00am
– Student Ministry at 9:30am on Sundays, and 6:45pm on Wednesdays
– Grow Groups for Adults on Sundays, Wednesdays, and throughout the week Virtually, In-person,
and On-campus
Cleaning and Sanitizing:
– We have a cleaning crew for our whole church.
– Groups clean after using their spaces.
– We fog our building with disinfectant.
– We wear masks at all times during services and events.
– We practice social distancing in our services.
– We clean bathrooms after use.
– We have hand sanitizer stations available.
– We have implemented safe giving and Lord's Supper practices.
As we continue to learn and grow, our policies and procedures shift as well. Our goal is to bring glory to God while ensuring a safe environment for our people.
Grace and peace,
Pastor Matt
WBC Reopening Plan Update 9.20.20
Dear Church,
Thank you for your patience with the leadership at WBC. After meeting with the Admin Team and Deacons, our leadership is ready to move forward with reopening the Church. I want to take a moment to share with you how we want to help you in the reopening process. We recognize that most decisions during this time should be written in sand, ready to be updated at any time. Thank you for being flexible during this season.
Quick Summary:
Adult Grow Groups relaunching, look for specific dates from your Leader (Sunday School Teacher, Life Group Leader, etc)
Kid's Ministry relaunches indoors for the 9:30am and 11:00am services on Nov. 1st

(currently meeting outdoors on Sundays)

Student Ministry relaunches indoors at 9:30am on Nov. 1st

(currently meeting outdoors on Wednesdays)

Services remain at 8:00am, 9:30am, and 11:00am
First, we will have Adult Grow Groups meeting on campus and virtually. That means you will have the opportunity to connect with your Grow Group either in person or virtually (some Grow Groups will opt out of being on-campus or opt out of virtual options, your leader will give you more information as they decide). Each Grow Group will reopen on the day they choose. We hope to relaunch Adult Grow Groups sooner than Students and Kids Ministry (Nov. 1st) so that we can ensure all of our procedures are running smooth once we have Kids and Students back indoors.
Second, we will have the maximum amount of people allowed in the room listed on the sign where you enter into your Grow Group room. For most, this number will be less than 12. We will ask that your Grow Groups sign up to attend prior to arrival.
Third, we will continue to offer worship services at 8:00am, 9:30am, and 11:00am. The 8:00am service is traditional and will be in the Sanctuary. The 9:30am and 11:00am are contemporary and will be in the Multi Purpose Room (the gym). As of right now, we will continue the Radio service at 11:00am and the Facebook Live service for the 11:00am service.
Fourth, please expect your Grow Group to be set up a bit different in order to create more space for you to meet safely. We will also have Grow Group leaders or helpers clean their rooms after use.
Fifth, we are asking for you to wear your masks inside the building on Sundays regardless of your location in the building. This includes Grow Groups, Worship Services, and other areas of ministry.
Sixth, we are asking that no food be brought into the building. We are allowing water bottles that you bring, as we still have no water fountains in operation.
Seventh, we are reopening our Kids Ministry indoors on November 1st, 2020. We will send more information about the safety protocols we are putting in place as we welcome our kids back inside at WBC. Our Kids will meet at 9:30am and 11:00am. They are welcome to come to both times. At this time we plan to begin our Wednesday night Kid's Ministry in January of '21.
Eighth, we are reopening our Student Ministry on November 1st, 2020. We will send more information about the safety protocols we are putting in place as we welcome our students back inside at WBC. Our Students will meet at 9:30am on Sundays, and 6:45pm on Wednesday Nights.
Ninth, we are reopening the Church to parachurch ministries. Parachurch ministries are welcome back indoors while being expected to follow our protocols to ensure their safety and your safety. These are ministries that WBC supports but aren't entirely organized, resourced, and led by WBC (ex. FCA, CBS, etc.). Not all Parachurch ministries will be coming back on campus or indoors, they will make that decision.
Our goal is faith over fear, and wisdom over foolishness. We are going to make disciples, no one can stop that. The question is, how are we going to make disciples with health and safety as a priority? The above information is the conclusion of efforts from the Admin Team, Deacons, and Staff as to how to reopen our Church safely.
Grace and Peace,
Pastor Matt and the Leadership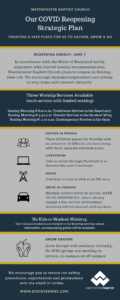 1. We are Reopening June 7th
2. Three Services, each service with limited seating
a.
Sunday Morning @ 8:00 a.m. in the Sanctuary
b. Sunday Morning @ 9:30 a.m. in the Student Wing
c. Sunday Morning @ 11:00 a.m. in the Gym (MP Room)
3. See Safety Considerations below in alignment with Carroll County recommendations and State Recommendations.
4. Radio and Livestream will continue. The Contemporary Service will be available on Facebook at 11am and livestreamed online. The Traditional Service will be available on FM 102.3 at 11am.
5. Grow Groups will continue virtually; no WBC groups are meeting in person on campus or off campus.
6. We encourage immunocompromised and elderly to stay home and connect virtually, via livestream or radio.
7. We intend to have a monthly outdoor/drive-in service (date to be announced).
Our State and Local Governments Expectations:
1. No more than 250 people.
2. Masks on Campus, provisions for those who don't have masks.
3. Temperature Checking (at home is fine, all leaders will be checked at the church).
5. Cleaning Supplies/Sanitizing Supplies on Campus.
6. No Congregational Singing (except outdoor services).
7. Seven feet of social distancing.
Extra Precautions we are taking:
1. Door Greeters to open doors so that we reduce the amount of contact on high volume areas.
2. Continued Tithing through Online and Mailing (giving box located on campus).
3. Lord's Supper through Groups or at Home.
4 .No Coffee and Donuts on campus.
5. Three different spaces for Worship with no crossover of different services.
6. Three different bathroom areas, one for each different worship services.
8. Weekly Sanitizing Crew.
9. Bathrooms cleaned after use.
In order to adequately prepare:
We are reopening June 7th. This
is subject to change based on recommendations by health officials and our government. Our hope is to be in Phase II of the Government's reopening at that point, so we can begin singing on campus. Also, our local government requested that we wait until Phase II to reopen. If we are not in Phase II of the Government's Reopening, expect further communication on how and if we will begin reopening on June 7th.
We will have three spaces for worship, which will reduce the amount of people in each space.
1. 8am: Sanctuary, traditional style (limited capacity)
2. 9:30am: Student Wing, blended style (limited capacity)
3. 11am: Gym, contemporary style (limited capacity)
We are adding a Drive-in/Outdoor Service once a month
We want to create a space for people to come and worship outside or in their cars who are not yet comfortable coming inside. This environment will include seating on a hill (for individuals or families) and parking spots on the parking lot where all can engage live services. Please look for more information coming as we map out a schedule and plans!
No kids or student ministry. Our kids and students are invited to the worship services and will have accompanying guides for the services that are interactive.
We will continue to offer livestreaming through social media of the 11am Contemporary Service on Facebook and online streaming through our website.
We will continue to offer radio services of the Traditional Service at 11am on FM 102.3.
Let me just speak from my heart:
1. I have people I respect who have died because of the virus.
2. I have great friends who have lost close family members because of this virus.
3. We have people in our church who have the virus.
4. It's personal. It's not policies and procedures. It's not numbers and statistics. It's people I love and care about. It's people in our church, that God has entrusted me to shepherd and lead.
The Local Government asked me to wait and reopen when I felt like I could do what they asked and prepare our building and processes to align to their expectations. I believe we can achieve this by June 7th. We need to do what is best for our Church. For us, we need time to create a space for you that most effectively eliminates high risk situations. This is our plan; I hope to see many of you then.